Whether you know her as Erica Schroeder or Bella Hudson today we got New York voice actress Erica Schroeder on Ogeeku as she discusses her experience in the Voice Over World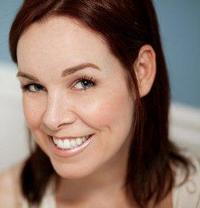 To the readers out there introduce yourself and some roles you have played:
Hello Folks! It is I, Erica Schroeder…also known as Bella Hudson. I am a theater and voice over actor. I performed in concerts, plays, musicals, cartoons, anime, animated mini-series and films, video games and a myriad of other forms of performance. Some roles include Lyserg Diethal in Shaman King, Mai Valentine(Season 4) and Dark Magician Girl in Yu-gi-oh!, Rally, Zora, and Akiza in Yu-gi-oh! 5D'S, I did Blaze the Cat and Wave the Swallow in the Sonic the Hedgehog franchises for five years, Emma Frost in The Astonishing X-men motion comic, Bridget in Mew Mew Power and right now you can hear me as Bianca and various roles in Pokemon, Rai in Tai Chi Chasers, and Cathy Catherine in Yu-gi-oh! ZEXAL.
How did you get involved with voice over?  What was the first role you played?  What other significant roles have you played?"
I knew from the time I was a wee one running around the house impersonating various cartoons that I wished to one day provide the voice for one!  I watched a LOT of them and developed over 50 impersonations over the years. Some were straight up Saturday morning programming impersonations and others were stand-up comedians of all ages, many of which were men…from Bobcat Goldthwaite to Chris Rock.  I also liked to (and still do) impersonate singers.  I've always enjoyed being slightly odd and reveled in it.  I got a call to audition for this character named Rena in a show called Ultraman Tiga for 4Kids productions. I got a call back and shortly thereafter landed the role. I was shocked to be hired for my own voice, maybe not giving myself enough credit for my extensive background and training in acting.  I always imagined my first role would be more like Kino in SHAMAN KING. I had always known one of my strengths was being able to transform…kind of like Gary Oldman.  Most of us don't realize just how many films we've seen him in. He can be anything. It's hard to say what "significant roles" I've played as different roles are significant and meaningful to different audiences and fans.  Some may really connect with one performance and completely loathe another. That is the complete beauty of one's own opinion and voice in this world.  We all can be critics and we all can be fans.  Here's a list of a few notable roles …:) I think Luffy, Lyserg, Akiza, Bianca, Emma Frost, Rai, Mai Valentine and Nurse Joy (replacements for various seasons).
(Various examples of her roles I have played in Anime: From Left to Right Cathy Catherine, Mai Valentine, and Akiza Izinski. Credits to Alana Portillo who designed it for Erica Schroeder's cover photo on facebook)
I see you have a background in theater did that help you in voice over?
Having a background in theater helps IMMENSELY with certain forms of voice over.  For anime and cartoons the training was invaluable because you would use the same set of tools to develop a character for musical theater.  I've had many cartoon and anime directors say they LOVE working with musical theater performers because of their inherent musicality, attention to detail and their ability to make bold character choices.  There are so many different styles of theater as well as so many different styles of animation.  A versatile theater actor has a bag of tools they can use and adapt for each style.

(One of my many roles in musical theater, this one playing the Green Girl in the musical SHOUT!)
You mainly work with 4Kids what is that like for you?
I've worked for over 20 different production houses over the years but the one that has stood the test of time as a symbiotic relationship for me is the one I have with 4Kids. I do love me some Duart as well and hope to continue my lovely relationship with them till infinity.  I have immensely enjoyed working with 4Kids over the last 10 years.  I'm pretty sure the feeling is mutual.
They never box me in. If I say "I'd like to read for the 75 year old transsexual who lost half a voice box in the war" they'll say "Of course!  We'd love you to".  They have really allowed me to showcase/try anything and everything that I'd like. They have been loyal, kind, loving and they even in the past let me bring my daughter with me on occasion and Kristen Thorne would watch her for me while I was in a shorter session.  I know 4Kids gets flack and take a lot of heat but they brought anime to the masses they helped people fall in love with it.  They do incredible work within the limits of their time slots and S and P (Standards and Practices). I am not speaking for them here but in my opinion they : try their best to please fans of all ages, try their best to please the network and its limitations, try their best to maintain as much of the storyline as possible taking out massive amounts of violence and/or inappropriate dialogue, plots, etc.  Fans have to take that all into account before they get their panties in a bunch.  I have a smile on my face when I go to work and I leave with a smile on my face. I feel lucky.
This might be a little controversial but 4Kids One Piece, did you knew of the problems fans had with the 4Kids version?
I was blissfully unaware of any controversy surrounding 4Kids One Piece. It wasn't till years later when I opened my FB page that I became aware of it. I didn't need to know any of that. I had countless auditions and sessions with the creators and they supervised the first several episodes/records. 4Kids made sure they were happy with all of their choices. Young fans loved it.  S & P was hard to please but they worked hard to do it, and they did, very successfully. I loved performing that role. What a personality I had to work with. I have a recording of Luffy singing the entire National Anthem….the engineers, directors, producers and I will never forget that session.  One of my favorites of ALL TIME.
For a while you were credited as Bella Hudson what made you want to use your real name?
I actually started out as Erica Schroeder, then within a year or two switched to Bella Hudson. This change was made from advice from an agent at the time.  I was accidentally outted by an engineer trying to correct false credit a year or so later.  For the most part I just ignored everything as I was so involved and busy with my career I never took the time to see what folks were saying.  Sometime later I realized everyone knew we were the same person so after I decided to just go back to my real name.  People know me as Erica, some as Bella, either one is fine for me. Bella Hudson was a homage to my Sister Danielle (who I always called "Daniella Bella") and her first born daughter "Hudson".  It also worked for me considering I grew up near the Hudson River and used to canoe on it from time to time.
You do a fair share of male roles (Lyserg, Rai, and Luffy) what is that like? Anything you do when doing a male voice?
As I mentioned before I love crossing genders and ages.  When voicing a male character I try and think like a guy. Obviously. I'm known for a certain scratch I like to put on certain male roles.  Some producers and directors ask for more…some less.  I can modify any element of a voice to the "n"th degree based on character, my own instincts as well as the needs and desires of the fine folks in charge.
You are a popular voice actor in both the Pokemon franchise and the Yu-gi-oh! Franchise what is that like for you to be a voice actor in two of the most well known animes?
It's a blast from beginning to end.  Pokémon and Yu-gi-oh rule!!! The fans, who I'm finally getting to know, are stellar folk. I feel pretty darn lucky to have the privilege and honor of working on both shows. I adore my time with my directors and producers and my script. There is a mutual love and respect amongst all of us mixed in with a good dose of irreverence. Lisa Ortiz is my super bud. I LUV ha, Tom Wayland is my chummer crazy mix town stud and nerd…he kind of knows everything…not kidding and Tim Werenko is my bitch (not sure he knew that..oops).  Darren Dunstan rocks my world and we've sung together in a show before.  He is a ridic talented stage performer. Michelle Dunn is just about the hottest producer I've ever had and also has a ridic voice. She and her pooch, Millie, are pretty perfect. Carter Cathcart is a god but I rarely get to see him.  Not only is he RIDICULOUSLY talented but he has a heart of Chocolate…I mean gold…same difference.
Do you play Pokemon or Yu-gi-oh! (video games or the card game)? Do you own any cards?
I do not play any video games.  Dying repeatedly stresses me out.
The only cards I own  were donated by a fan which are a Japanese Dark Magician Girl and my favorite monster from Yu-gi-oh! Black Rose Dragon.
Your first lead in Yu-gi-oh! was taking over the role of Mai Valentine from Megan Hollingshead after she moved, what was that like?
It was a lot of fun. Eric Stuart wanted me to do a straight up voice match initially just to get a sense of where she was coming from and then wanted to change it up…to make it my own. He wanted a good dose of Mae West in there, which was fun for me. I think this was my first time working with Eric and he is VERY intense.  He knows what he wants and knows just how to get it from you. He has a clear vision so at first I was a bit terrified and intimidated to work with him but that quickly went away as other sides of his personality came out and I realized he was just another human being like me.  He said some pretty interesting and insightful things like "you'll never be the original so don't try to be" and "just be Mai through your eyes and the fans will love you". When I work with him now, my memory of our first sessions together make me laugh.
A fan favorite role you played was Akiza Izinski in Yu-gi-oh! 5D'S how did you feel about the role?
It was incredible playing Akiza. Something you'll be shocked to learn is nobody ever told me she would end up on the good side. One of the things I love about working on certain projects at 4Kids is they let you experience your role in real time. You can't play the end (something directors in theater say ALL THE TIME!!! "Stay in the moment"…. "Don't play the end!") If you don't know what the end is. Some film directors direct this way. They keep other actors dialogue and plot line from them so they don't know how they are perceived or they don't know what's going to happen to them. They won't let them see certain scripts until right before they are doing them. First instincts are HUGE in this business. If you haven't got 'em you'll never work.  She's a great and dynamic character who had quite a journey to go through. I loved the episode when Akiza was with Yusei in the back of the truck.  There were some real personal relationships touched on in the story line which I quite enjoyed.
If I am correct you have kids, have they seen any of your voice over work and how do they respond to it?
I have two kids, a 4 ½ year old daughter and a 2 ½ year old son. They haven't seen too much yet. I DID however watch the first episode of Tai Chi Chasers with them and they LOVED it so much they begged me every week to watch more. So…we did!  It's the first time I've watch a show I was in from beginning to end….so far. I was a little afraid, considering it's a bit old for them, BUT 4 kids does a pretty good job of taming the violence so I thought "why the heck not".  In this instance it seemed like a great experience for me to share with them. My daughter tells me all the time she wants to be a cartoon and she wants to be an actress.

What made you open a Facebook fan page, and how has that been like for you?
I was prompted to open my Facebook page simply because I felt like a jerk having all these nice people asking to be my friend on Facebook and ignoring them. I wasn't "ignoring" them on purpose. Facebook, although rather public in certain regards, is somewhat private for me. I personally know every person I'm "friends" with. I thought "well…..why don't we get to know each other another way on Facebook" so I opened the page. It's been fun getting to know fans. They are intense, knowledgeable, passionate, and kind. Sometimes though they make me laugh heartily as I don't know how to take certain comments that maybe aren't meant to insult me but do.  Mostly, I laugh them off. Nobody should take themselves too seriously.
Any projects you can announce right now, any plans for a con appearance?
I will be appearing as a guest at  Roc-Con in Pa on October 28th, 2012. http://rocconpa.org/
Where the fans can reach you?
Fans can reach me at my facebook page Erica Schroeder Actor/Director
Thank you for the interview Ms. Schroeder
It was my pleasure. Thanks for the interview and for your continued support.  You have been a wonderful fan and I appreciate all that you do.